B2B SaaS Startups
Are you a B2B SaaS Startup in pre-revenue, bootstrapped, Seed or A Round stage? We frequently find that Founders in this stage have no professional marketing team and are making sales happen based on sheer willpower. If your goals include building repeatable, scalable, predictable sales growth in the most efficient way possible, we can help.
Well designed

Intuitively functional

Easy to Navigate

Provide value to their problem or job

And simple to request more information
How We Help
Are you curious about how we have helped other SaaS startups? Read our iNymbus Case Study. They had the same problems you are having right now.
Don't just take our word for it, hear how SaaS startup FreightPop utilized Orange Marketing to achieve their growth goals.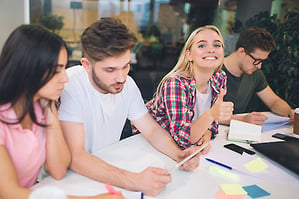 Lets Talk.
Let's have a 45 minute exploration call. In this meeting we'll learn more about your business' goals, challenges, customers, and market. We'll talk about what's working and what's not, and we'll offer some early suggestions based on our research of your website and competitors. And we can let you know if we think we can help, or refer you to someone in our network who can.